By Dan Diaz
Santa Paula Times published 7/03/2010
A funny thing happened on the way to a Softball State Championship…it never happened.
Our young "Dream Team", the Super 8's who never lost a game, who never lost a Tournament…lost.
The State Championships were played in Lancaster over last weekend starting on Friday morning and continuing until Sunday afternoon.
It is a "Double Elimination" Tournament where if you lose you are not done; you do not leave until you lose two games.
This format is fair, to the point of, if you happen to have a bad game you still are alive and have a shot. The problem is if you lose early you are thrown into the loser's bracket and have a mountain of a hole to climb out of.
In the first game of the Tournament for our 8U's (8 years old or younger) they lost a close game to Menifee 3 to 2 and were then placed in the "loser's bracket".
This started a journey of unbelievable wins and a possible comeback of the ages.
After their loss on Friday the 8u's did not play again until Saturday morning at 8 a.m. Starting over they settled down, dusted off the loss and got back on track by beating the Carlsbad Mega Bombers 6 to 3. Then as that game ended they started another game at 9:45 a.m. and beat Lake Elsinore Westside Bandits 5 to 1.
Having two hours off they grabbed some lunch and came back to play San Pedro at 1:30 p.m. and won 3 to 0. When that game ended they then played Rancho Trabuco at 3:15, getting a win by a score of 7 to 3.
Even though they won four games in one day they still had one more game as they played the team that beat them the day before (Menifee) in the nightcap starting at 7 p.m.
Did I tell you this was all done in beautiful Lancaster, where the average temperature just before July is 95 degrees?
Wanting to show Menifee that the first loss was a fluke, our Super 8's returned the favor and beat them 4 o 2, winning 5 games in a row, all on Saturday !!
This historic performance gave them the opportunity to rest, come back on Championship Sunday, start over with a clean slate and continue on.
Sunday morning at 8:45, beginning with Alpine, the 8U's came out strong, started scoring early and often, winning 11 to 3. Getting a short break, they then played San Clemente and with a late inning rally they beat them by a score of 6 to 4 setting themselves up for a semi-final game against Beumont at 12:45 p.m.
This ended up being their 9th game in 48 hours, their 8th game in 28 hours.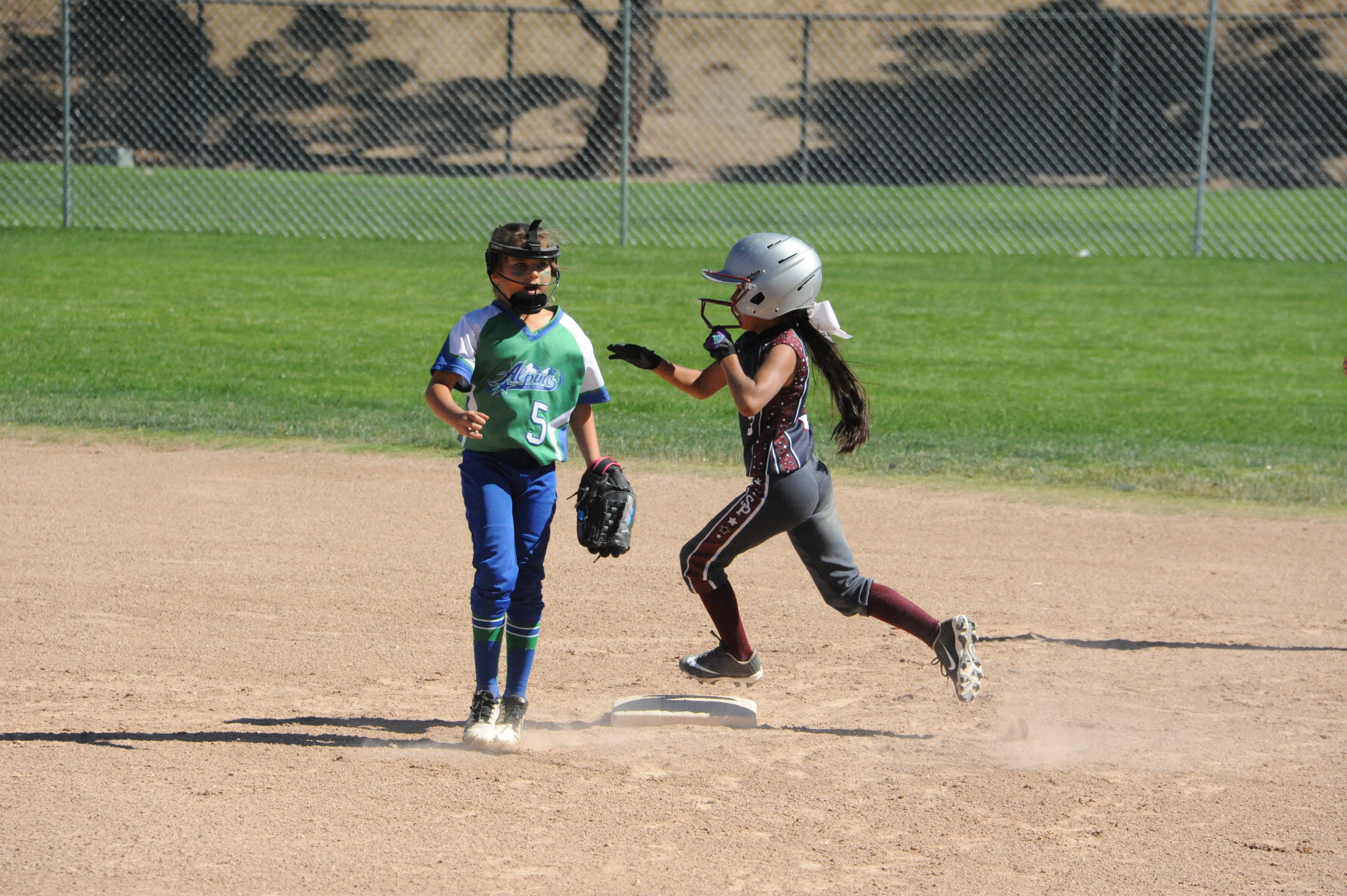 Marathon runners don't work this hard.
This was over 50 innings of play in 95 degree temperatures.
These are 8 year old girls, and they just ran out of gas…
In comparison, the team of Beaumont did not lose a single game until Sunday morning, just before they played Santa Paula.
When you continue to win, you do not have to subject yourselves to try and comeback after a lose having to win games after games. Beaumont played two games on Friday, two games on Saturday and Santa Paula was their second game on Sunday.
They basically were well rested and were on their 6th game in 53 hours. Santa Paula was on their 9th game and was coming off of a 5 game, 13 hour marathon performance the day before.
As a coach you never know when it's going to happen, but when it does you know.
When your pitchers pitches just are not as sharp, when your infield cannot throw out runners or your outfield starts dropping balls you know your players are starting to hit a wall.
Santa Paula was down 4 runs after the first inning and 8 runs after 3 innings. It was like watching a train wreck in slow motion. You just want it to end, but it is a long train and it continues to fall off the tracks.
As I was covering the game I mentioned to Coach Robert Flores that the girls are running on fumes. He said no…they were running on "Hopes and Dreams".
Unfortunately, their hopes were fading and their dreams were turning into a series of nightmares.
Amazingly, these girls still had some fire left in their heart and got a second wind.
In the final inning, during their last at-bats they were down 12 to 0. They could of easily packed it up, but instead Serena Buenrostro & MJ Montejano both led off with walks, Kiki Coe doubles them in and is followed by KK Robledo getting an infield hit accompanied by various throwing errors and culminating with her coming home with the last throwing error going into the opponents dugout and being awarded home plate, all by an infield hit.
Santa Paula just scored 4 runs and all of a sudden there is a pulse and life back in the dugout. Chanting and screaming for more, Rocky "Rockstar" Flores gets a hit to left, steals 2nd and 3rd and is brought home after a hit by Malise Maynard.
Down by 12, they just scored 5 runs with 7 more to go. After them digging too deep of a hole before the 6th inning, it just was not going to be. With the final out, Santa Paula's 8U's incredible comeback landed short.
Congratulations to all the players, coaches and family members who guided and followed them on this amazing run. Even though they did not make it to the finals, their journey to get to the semi-finals showed pride, determination, sacrifice, courage, perseverance and fortitude.
This community appreciates your commitment and are honored to have you girls represent us with the words Santa Paula displayed on your chests.